Lighting Services provides every kind of lighting solution possible for multi-residential, industrial and commercial properties.
Our basic services include:
• Repairs to indoor / outdoor lighting
• Repairs to sign lighting
• Repairs to emergency lighting systems
• Fixture cleaning & relamping
• Supply of lighting products for maintenance staff
• Used lamp and ballast recycling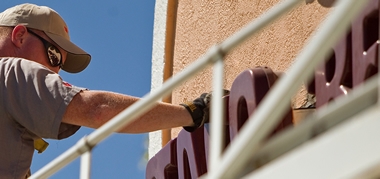 We repair and service
most types of indoor and outdoor lighting.
• Fluorescent
• High Pressure Sodium
• Metal Halide
• Incandescent
• Neon
• LED
.
Keeping your business bright…..Many of our clients prefer preventative maintenance for their lighting systems. We offer many different types of plans to suit any budget or requirement. The proper upkeep of your lighting will prevent large overhaul costs in the future and can allow easier annual cost budgeting of your maintenance.
YOUR LIGHTING & SIGN CONTRACTOR
MEMBER – CHAMBER OF COMMERCE